2023 Trunk Show Announced!
Set Your Sights on the Styles of Tomorrow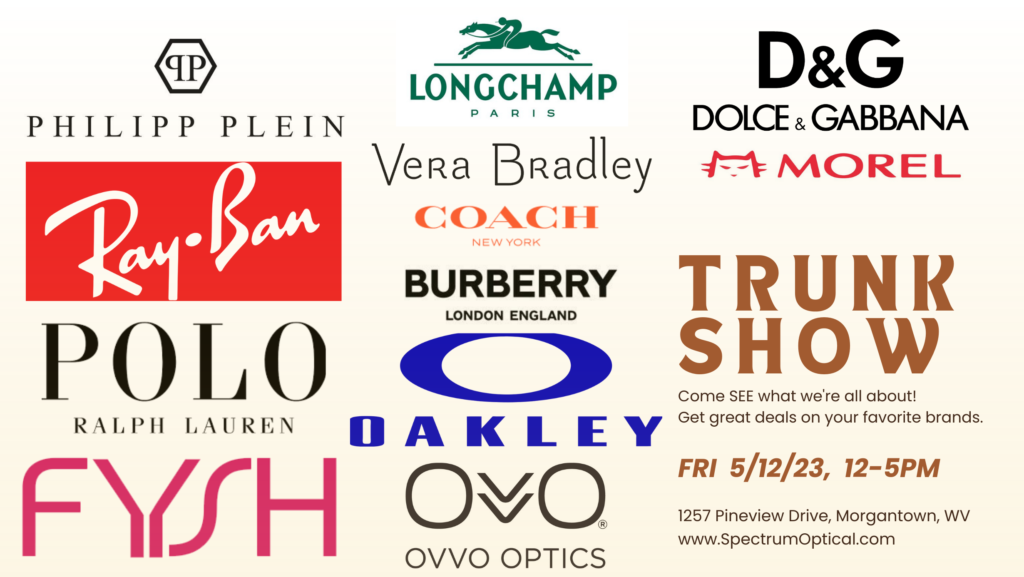 What's all the excitement about?
We're so excited, and we just can't hide it!
The #SS23 Spectrum Optical Trunk Show is less than two months away, but it just can't come soon enough!
You'll see some of your favorite classics, like Fysh UK, OVVO Optics, Ray-Ban, and Vera Bradley, as well as some brand-new faces, like those of Philipp Plein and Ralph Lauren's Polo Prep Eyewear. We will have more than a dozen brand reps in attendance which may make it our most exciting trunk show yet!
When can I go?
Join us on Friday, May 12th between 12 and 5pm.
Get great deals on the best eyewear brands… ONLY at Spectrum Optical in Morgantown.
1257 Pineview Drive, Morgantown, WV 26505
Who will be there?
We're so glad you asked!
Designer Frames on Display:
Burberry
Coach
Columbia
Dolce & Gabbana
Fysh UK
Kliik
Longchamp
Marchon NYC
Morel
Oakley
OVVO
Philipp Plein
Polo
Polo Prep
Ray-Ban
Superflex
Vera Bradley