Comprehensive Eye Exams
It's about more than just blurry vision.
Eye exams are vital to your overall health.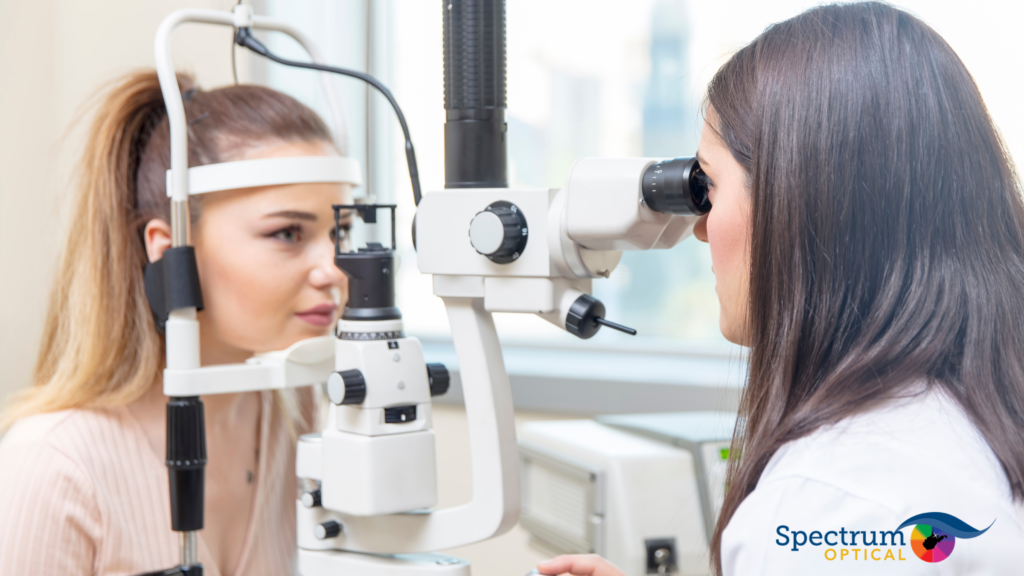 What's the point of getting an eye exam?
The answer may surprise you. Many people schedule an eye exam to be able to order new eyeglasses or contact lenses. While our comprehensive eye exams will provide you with a prescription for eyewear, an eye exam is about much more than just a prescription. Our eyes are constantly working, taking in millions of pieces of information at a time: Colors, shapes, sizes, distances, depth, and movement are just a few of the things we would be "blind" to without our eyes.
Just like any other part of the body, our eyes can develop diseases that cause serious harm, as well as other conditions that may not be harmful but can affect our quality of life. If these conditions go undiagnosed and untreated, you can experience headaches, nausea, pain, and even vision loss. Not to mention, serious health issues like diabetes and high blood pressure are often first detected during an eye exam. (Yes, really!)
We know going to a doctor's office sounds scary. But eye exams are painless and can help us suggest ways to improve your health and vision!
Don't put it off — schedule your comprehensive eye exam at Spectrum Optical today.
What does a comprehensive eye exam include?
Your optometrist will determine what tests are needed based on your medical history.
However, most comprehensive eye exams include the following:
Visual acuity to test the sharpness of your vision, usually with an eye chart
Visual fields test to check for blind spots in your vision
Retinoscopy to estimate your eyeglass prescription
Refraction to determine your exact eyeglass prescription
Slit lamp to check for common eye diseases and conditions
Retinal photo screenings to test for diabetic retinopathy
Tonometry to test for glaucoma
Ophthalmoscopy to examine the optic nerve, retina, and blood vessels
These tests are completely non-invasive and can provide a wealth of knowledge about your eye health and functioning. By conducting these quick, painless exam components, your doctor can develop a treatment plan unique to you.
How often should I get a comprehensive eye exam?
For most adults, we recommend yearly eye exams. A lot can change in a year, and early detection of many eye conditions can provide precious time to implement treatment options that can delay the condition's progression. The timeframe of your visits ultimately depends on your age, risk factors, and whether or not you wear corrective lenses.
The American Optometric Association (AOA) recommends children have their eyes examined at 6 months old, three years old, at the start of school, and every two years until age 18. Our pediatric eye care clinic helps ensure that children receive professional, thorough evaluations at critical times in their lives.
What about contact lens exams?
A comprehensive eye exam typically does not include a contact lens fitting, but we may be able to conduct this fitting on the same day as your regular exam! Just let us know when you schedule your appointment, and we'll make sure you are taken care of.
Make healthy vision a priority in your life and in the lives of the ones you love. Schedule a comprehensive eye exam at Spectrum Optical today.