Doctors

Meet the experienced and friendly doctors who make Spectrum Optical a proud provider of vision care products and services in Morgantown and Bridgeport.
---
Dr. Richard Goellner
Dr. Goellner did his undergraduate work at the University of Dayton and graduate work from The Ohio State University College of Optometry. He completed a graduate program in ocular therapeutics from the Pennsylvania College of Optometry. He received the Leonard Jarrett award in 2005 for community service from the West Virginia State Lions Club. He is the former clinical director for West Virginia's Special Olympics Opening Eyes program. He has spent 10 years serving on the West Virginia Board of Optometry.
Dr. Goellner is a member of the American Optometric Association and the West Virginia Association of Optometric Physicians. He served as an adjunct instructor for the West Virginia School of Medicine for more than 15 years. Dr. Goellner has been married to his wife Cynthia for 36 years. Their son, Jack, graduated from West Virginia Wesleyan College and is currently at Marshall University's school of medicine. Dr. Goellner enjoys farming, hiking, and camping.
---
Dr. Cynthia Zwolensky
Dr. Cindy Zwolensky was born and raised in Barbour County, West Virginia. She is a graduate of Philip Barbour High School and a 2002 graduate of West Virginia University, where she received a Bachelor of Science in Biology. She attended the Pennsylvania College of Optometry in Philadelphia, receiving her Doctorate of Optometry in 2006. After receiving her Doctorate, Dr. Zwolensky completed a post-graduate residency program in Primary Care Optometry at The Eye Institute of PCO in 2007.
Licensed in both West Virginia and Pennsylvania, Dr. Zwolensky has been practicing primary care optometry in West Virginia for over six years, providing comprehensive eye exams (including diabetic examinations), contact lens examinations, treatment, and management of ocular disease, and contact lens fittings. She has also been employed by a cataract surgeon, providing pre- and post-operative eye services for the past five years prior to joining Spectrum Optical. In addition, she has been affiliated with laser correction centers and has provided surgical consultations and post-operative eye care for LASIK and PRK.
Dr. Zwolensky currently resides in Bridgeport, West Virginia with her husband Dr. Brett Zwolensky, a staff optometrist at The Louis A. Johnson VA Medical Center in Clarksburg. They have one son, Logan, whom they adore. She and Brett are members of the Bridgeport United Methodist Church.
---
Dr. Jordan Hamric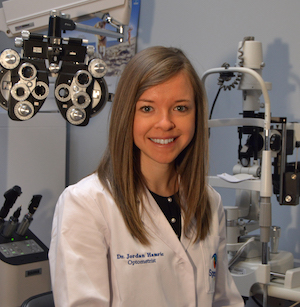 Dr. Jordan Hamric is a West Virginia native, originally from Bruceton Mills. She earned her Bachelor of Science degree in Exercise Physiology from West Virginia University in 2013 where she also competed in collegiate track and field and cross-country, earning All-American honors in Outdoor Track and Field. Following undergraduate school, she received her doctorate with summa cum laude honors from the Southern College of Optometry in Memphis, TN. Throughout her doctorate education, she served as a Student Ambassador for the college. Dr. Hamric completed her training at the Louis A. Johnson VA Medical Center in Clarksburg, WV, The Eye Center in Memphis, TN, and Oliver Eye Associates in Rock Hill, SC. During her schooling, she became skilled in the treatment and management of ocular diseases, co-management of cataract and refractive surgery, contact lens fittings, dry eye disease, and pediatric eye care.
Dr. Hamric is a member of the American Optometric Association, the West Virginia Association of Optometric Physicians, and Beta Sigma Kappa Honor Society. She was selected into the Who's Who Among Students in American Universities and Colleges, and she received the Optometric Extension Program Clinical Curriculum Award, as well as the Outstanding Clinician Award while studying at Southern College of Optometry.
Jordan decided to continue pursuing her passion for running following her collegiate athletic career, as she trains and competes as an elite athlete for the women's athletic apparel company, Oiselle. While in optometry school, she qualified for two USA Outdoor Track and Field Championships in the 3k steeplechase. Jordan continues her journey as an Oiselle elite athlete as she begins her optometric career. She also enjoys backpacking, cooking, and spending time with her family. Dr. Hamric looks forward to serving the community by providing premium eye care to patients of all ages.
---
Dr. H. James Seese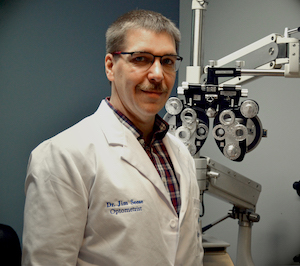 Dr. H. James Seese, O.D. is a West Virginia native, originally from Kanawha County, WV. In his youth, he attended Herbert Hoover High School in Clendenin, WV. He earned his Bachelor's in Chemistry from West Virginia University in 1989 and went on to earn his doctorate from Southern College of Optometry in 1993.
Dr. Seese is a member of the American Optometric Association (AOA) and West Virginia Optometric Physician Association. He has an interest in Sports and Performance Vision as a member of the AOA's Sports and Performance Vision Advocacy Network (SPVAN). Dr. Seese also specializes in pre- and post-operative management of refractive surgery, contact lenses, and treatment of dry eye syndrome. He is a skilled primary care optometrist who has practiced in West Virginia for more than 25 years.
Dr. Seese has been married to his wife Sherri for 29 years. They have two adult children Jessica and Kyle. In his spare time, he enjoys fly fishing and photography. Dr. Seese is accepting new patients at Spectrum Optical, PLLC, located in Morgantown, WV.
---
Dr. Tyler Kerr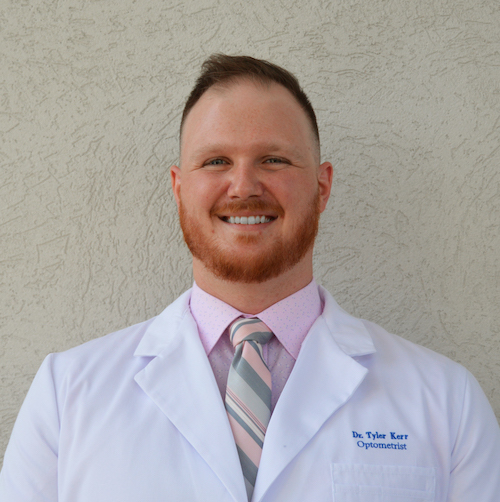 Dr. Kerr, who grew up in Hardy County, is happily returning to his home state of West Virginia to join the Spectrum Optical team. After graduating from East Hardy High School in 2011, Dr. Kerr attended Concord University where he earned a degree in Pre-professional Biology and played a role in his alma mater winning two conference championships in football. He then traveled to the Midwest for Optometry school and received his doctorate from Indiana University School of Optometry in May of 2020.
After graduation, Dr. Kerr completed a 13-month post-doctoral residency in ocular disease at the prestigious Cincinnati Eye Institute, where he trained under some of the country's top ophthalmological surgeons. He will bring with him extensive clinical experience in the fields of glaucoma, cornea, retina, oculo-plastics, and neuro-ophthalmology. Dr. Kerr has a passion for the diagnosis and treatment of ocular conditions and diseases of every variety, and can also provide patients with comprehensive care (including diabetic exams), contact lens fittings, and Pre-/Post-operative management.
During his time at Indiana University, Dr. Kerr was heavily involved in student government and served as Optometric Association President at IUSO, giving him the privilege of travel and advocate work for optometric patient care. He was also heavily involved in volunteer work through the local chapter of Volunteer Optometric Services to Humanity and Optometric Sports Vision Club. Dr. Kerr was inducted into the Gold Key Honor Society for his work and accomplishments at IUSO and earned a Bronze Oak Leaf Award during his time at the Hershel "Woody" Williams VAMC in Huntington, WV. He carries with him this long-practiced passion of patient advocacy and volunteerism.
Outside of his career, Dr. Kerr lives happily with his wife Jordan and their beloved dog, Monroe. He is an outdoor enthusiast and likes to spend his free time hunting, fishing, hiking, and camping. As avid sports fans, Dr. Kerr and Jordan can be found cheering on the Mountaineers whenever possible.
---
Dr. Ryan Alpino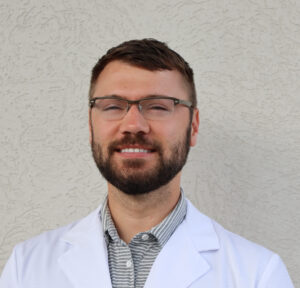 Ryan Alpino, OD was born and raised a Mountaineer in the Pittsburgh suburb of Plum, Pennsylvania. He graduated WVU Honors College Cum Laude in 2013 with a B.A. in Biology and a Minor in Sport and Exercise Psychology. He then received his Doctorate of Optometry in 2017 from The Ohio State University College of Optometry where he served two terms as President of Sports Vision Club. He also represented Ohio State at the National Optometry Student Bowl in Boston, Massachusetts.
Dr. Alpino enjoys the randomness and variety of primary care optometry. He has particular interests in binocular vision, contact lenses, pediatrics, and ocular disease. He has a diverse training background with formal externships at the Chalmers P. Wylie VA Hospital, Midwest Retina, Erdey Searcy Ophthalmology Group, and Columbus Laser and Cataract Center.
Outside of the clinic, he spends his time researching all things golf-related including equipment and golf course architecture, going skiing, playing poker, and attempting to ride every roller coaster in the United States. Dr. Alpino resides in Morgantown with his wife Morgan, a Pediatric Dentist, and their two Australian Shepherds: Cali and Sadie.