Ocular Aesthetics & Wellness
Keep your eyes comfortable and your vision clear.
A person's eyes are likely one of the first things you notice when you meet someone new. Our eyes tell our story – whether we're happy or sad, tired or wired, our eyes tell other people a little bit about us. Eyes are often called "the windows to the soul" and for good reason! That's why we offer services that help you see better AND feel good about the way you look. It is so important that we take care of our eyes each and every day. In the rush of life, it can be easy to forget to be gentle with our eyes and the tissues around them.
If your eyes are healthy but need refreshing, our ocular wellness clinic may be able to help!
BOTOX® Services

You've probably heard of BOTOX® – but what exactly is it? BOTOX® (onabotulinumtoxinA) is a prescription medicine injected by your doctor into the muscles around your head and neck. The treatment works by canceling nerve signals to those muscles and reducing tension in the targeted areas. This treatment can provide a number of cosmetic benefits, such as reducing wrinkles and fine lines on the face, though that's not all! Our doctors may prescribe BOTOX® to treat a number of conditions, such as blepharospasm, which is a condition characterized by involuntary eyelid twitching or spasms. This treatment can also be used to help with weak eye muscles that cause strabismus (eye misalignment) and other conditions. In additional to its well-known cosmetic uses, the FDA approves BOTOX® for the prophylactic treatment of chronic migraines and muscle spasms, so you can feel confident that you're receiving a safe, effective solution for your condition.
We offer BOTOX® treatments that are quick and easy – you can leave the office the same day, and treatment benefits can last several weeks to several months! Ask our team whether BOTOX® treatment may be an option for you.
Dry Eyes
Meibomian gland dysfunction (MGD) is one of the most common causes of evaporative dry eye. It results when the tiny glands in your eyelids become blocked or produce less (or lower quality) meibum, an oil that makes up a portion of the tear film that lubricates your eyes.
We use TearCare, an innovative, non-invasive procedure that uses heat to unclog your Meibomian glands and restore your eyes to a more comfortable and healthy state.
Another cause of dry eyes are Demodex, a genus of microscopic mites that can live in or near our eyelashes. Almost everyone has Demodex living in their pores, and these mites normally don't cause any harm. However, an overabundance of mites near the eyes can lead to uncomfortable symptoms such as eye itchiness, redness, and decreased vision. 
We offer a variety of treatments to combat these symptoms, including intense pulsed light (IPL) therapy, prescription eye drops, and eye health supplements. By allowing our team to address the causes of your dry eyes, we can help your eyes feel better and look more refreshed.
Red Eye Relief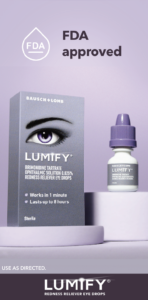 Red eyes happen for many reasons, especially when our eyes become irritated. Some causes of red eyes, such as dry eyes and foreign bodies, can be treated by addressing the root cause of your symptoms. We offer emergency eye care services for these urgent eye health issues.
If other treatments relieve discomfort but do not treat eye redness, your doctor may recommend Lumify.
Lumify works by restricting the venules in your eyes to reveal white, brighter looking eyes without limiting the flow of oxygen. Lumify has been clinically proven and is FDA-approved to reduce eye redness.
If you experience red eyes due to environmental allergies or other factors, ask our doctors about your red eye relief options.
Eyewear That Tell the Story of YOU
Your eyes help you navigate and enjoy life – thank them by wearing glasses or contacts that take the stain off your tired eyes.
We offer frames you'll love, and lenses you'll enjoy day after day. Plus, we can create custom specialty eyewear for your unique concerns. Discover endless options at Spectrum Optical.